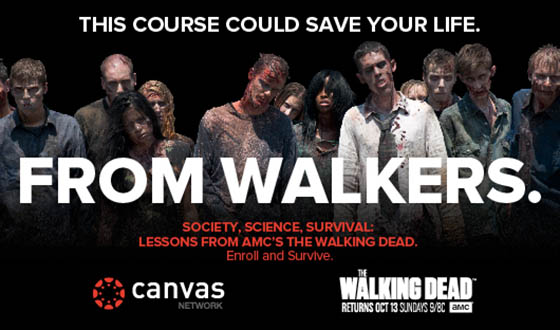 When you watch The Walking Dead do you imagine how you would do if the walkers were coming after you? Well, AMC, Instructure and the University of California, Irvine want to help you find out. Together, they are putting out a totally free massive open online course (MOOC) that explores a wide range of topics through the scenario of a hypothetical zombie apocalypse actually happening.
The course is completely online and available for anyone to sign up and check out. It is titled "Society, Science, Survival: Lessons from AMC's The Walking Dead," and will be offered only on Instructure's MOOC platform, Canvas Network, and will be taught by a multidisciplinary team of UC Irvine faculty: Zuzana Bic, public health; Joanne Christopherson, social sciences; Michael Dennin physics; and Sarah Eichhorn, mathematics.
Ready to sign up and secure your place in the class? No need to rush as there is no limit on the number of students who can take the class. And it is available to people around the world. The first class is scheduled for Mon., Oct. 14, 2013, which is the day after the Season 4 premiere of AMC's The Walking Dead.
The apocalyptic course will run for a total of eight consecutive weeks, with new classes available on Mondays. Classes go through Dec. 2nd, 2013. Since the zombie series will air new episodes at different times around the world, the Canvas Network will put in place provisions to help international participants avoid spoilers for the new episodes.
If you want to get more info or sign up for the class, visit the official website.