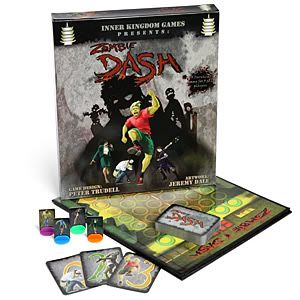 If you are looking for a fun zombie product, then check out the Zombie Dash Board Game. This strategy games tests if you have what it takes to survive a zombie apocalypse. Do you think you can handle it?
This cool zombie game is intended for between three and six players. And since some little kids can get freaked right the hell out by zombies, the suggested ages for this game are 8 years old and up.
One game of Zombie Dash should only take around 30 minutes as the zombie apocalypse action is fairly simple, but still a good time. The basic premise of the game is that you must keep your human token alive on the zombie apocalypse street that is the game board by making sure that no zombie tokens catch up to you, where they will promptly eat your brains. The winner is basically the last human standing.
The game board for Zombie Dash comes with zombie tokens, human tokens, human run cards, and zombie chase cards.
Where to Buy Zombie Dash Board Game
If you are a big fan of zombie products, like me, then you will be bummed to learn that this game is hard to find. In fact, I have not seen it at any local stores and Amazon.com does not seem to carry it either. The only place that I have been able to find this game in stock is at Think Geek. Click here to see if it is in stock now on ThinkGeek.com